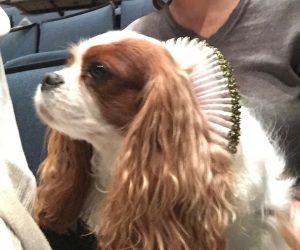 I've recently finished training CANDY and EL – two dogs – for OSF's "Shakespeare in Love". (They got rave revues like this one: "Candy had the audience in the paw of her foot.") It was a lot of fun!
Could your little dog be the next big STAR? Does he know a couple of tricks and love to show off? Well, there's good news: Your dog only needs to know a few simple things to be eligible for Hollywood.
GOT STAR POWER?
Dogs with star power are: confident, calm-ish, are curious and LOVE treats and games. A willingness to learn is also a must for any dog who is headed for the spotlight. And for more clues that poochie might be destined for Hollywood, consider these questions: Is your dog relaxed in crowds of noisy people? Does she ignore or only slightly startle when she hears a loud sound? Is she curious- but relaxed – around other dogs or cats? Answer "yes" and you may have a star on your hands! To learn more about your dog's disposition, look at the AKC CGC test items on my website.
A SOLID BASIC FOUNDATION
Dog stars need some training basics to lay a strong foundation for training Fluffy on the set:
Sit/Down/Stand & STAY
Come here
Touch with nose or paw
Go to a spot
A FEW SIMPLE TRICK IDEAS:
Teaching Spot a few simple tricks to will help her star power. Who doesn't love a dog that can take a bow?
Grab and pull
Raise Paw
Bob Head
Bark
Take a Bow
Watch this Super Bowl Puppy Commercial. Notice the puppy is only doing a few cues. Can you count how many behaviors she is doing? (Hint: it's not many…) AND – please send me a video of your pooch performing his favorite trick!
STILL NEED HELP? Contact me!