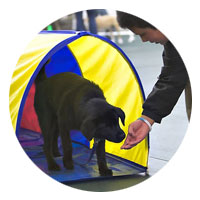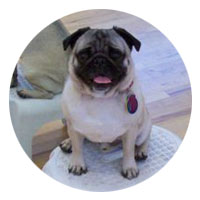 Five-Week Classes
Good Puppy Skills
Puppies ages 2 – 5 months, who have started their shots are invited for playtime, learning & more! Research has shown the most important time in your dog's life is under 16 weeks of age. Your puppy is learning every minute so let's set up a safe, clean environment to make learning good puppy manners easy and fun. Puppies will learn: SIT, DOWN, STAY, COME and LEASH WALKING. There will also be time set aside each week to answer questions about housetraining, chewing, barking and more! Please bring shot records to first class.
Visit the Links page for FREE DOWNLOADS of Ian Dunbar's books – BEFORE You Get Your Puppy and AFTER You Get Your Puppy. Great information for every puppy owner.
Puppies must have started their shots. Please bring your puppy on a 6′ leash, tiny soft training treats and copies of shot records.
NEW STUDENTS need to complete the "Group Class Questionnaire" & read "What to Bring to Class".
Good Dog Skills
This multi-level class goes beyond basic dog training and teaches real life skills to parents and their pups ages 5 months to 15 years. Not only will you both learn:  STAY, COME AND NICE LEASH WALKING, but you'll get to practice real life scenarios such as Don't Chase the Kitty, Good Greetings with Grandma, and No Counter Surfing. We'll also have time each week for solving problems such as barking, jumping, chewing and more.
This class is for people-friendly and dog-friendly dogs. Please bring your dog on a regular collar with a 6′ leash, and tiny, soft training treats.
NEW STUDENTS need to complete the "Group Class Questionnaire" & read "What to Bring to Class".
Teen Puppy Skills
Bring your hooligan teenage puppy age 5-10 months in for some behavioral rehab!  Let's teach him to stop jumping on everyone and stop running off!  Welcome to the world of the teen puppy where you will be teaching your teenage pup polite manners, how to focus, and how to listen.  We will be incorporating games and simple exercises that will be easy to practice on your own. There will be time in class for off-leash play!
Tricks and Clicks
Come and learn new dog tricks in a fun and relaxed atmosphere. You will enjoy choosing from a variety of different tricks that will be demonstrated and practiced in class each week.  A few of the tricks are: Bark on cue; crawl; get in the box; high five; jump through a hoop; kiss; shake and many, many more.  This will be easy, simple and fun for both you and your dog and a great way to learn to entertain your pooch when the weather is rainy.  You will be given the opportunity to perform your tricks in class and earn an AKC Trick Dog Title!
Good Citizen Canine
Join us as we prepare our dogs for the Canine Good Citizen test! This fun and fast moving class will help you learn the 10 essentials to a well behaved dog at home and in public. The Canine Good Citizen (CGC) is a program developed by the American Kennel Club that was designed to reward dogs who have good manners. The CGC program stresses responsible pet ownership for humans and good manners for dogs. All dogs who pass the 10 step CGC test will receive a certificate from the American Kennel Club.
This class will prepare humans and their canines for the CGC test as well as the therapy dog test. Once your dog passes his CGC, you will be well on your way to taking the TDI therapy dog test.
The 10 items on the CGC test include: accepting a friendly stranger; sitting politely for petting; appearance and grooming; out for a walk (walking on a loose leash); sit and down on command and staying in place; reaction to another dog; reaction to distraction; Supervised separation.
PREREQUISITE: Good Dog Skills or permission.
NEW STUDENTS need to complete the "Group Class Questionnaire" & read "What to Bring to Class".
Follow Your Nose
This class is a wonderful introduction to nose work with your dog.  We will begin by teaching simple "find-it" games and then start working with distractions.  You & your dog will learn fun skills you can take anywhere: in your backyard; at a park; inside the house and more. This class will unleash your dog's inner detective and build confidence for both of you!
PREREQUISITE: Good Dog Skills or permission.
Great Dog Skills
This class is a continuation of Good Dog Skills where you and your dog will continue polishing up the great skills he needed for real life.  Scenarios such as passing dogs on a side walk; sitting calmly at a cafe; no jumping on the house guests and coming when called at the dog park. You will learn how to teach your dog polite manners so you can visit with friends, take him for an enjoyable walk and go on outings knowing he is a happy well-adjusted member of your family.
Join a Dog Social Club!
Bring your friendly dog to this 45 minute class for some supervised play time! This class emphasizes socializing among both dogs and people so everyone can have fun. You'll learn how to read dog body language and your pup will have a safe place to practice good dog social skills. This is the perfect place to expose your dog to other dogs and people in a controlled, but relaxed environment so you can help him be a well rounded and confident dog.
Young Puppy Social Club
Puppies ages 8 – 20 weeks are invited to romp and play and get some training at NATURE'S PET – most Wednesday Eves. Email Colleen or call 541-601-7601 to sign up.
Small Dog Social Club
Dogs under 20#, over 6 months old, who are spayed or neutered, current on shots and friendly are invited to play & learn!