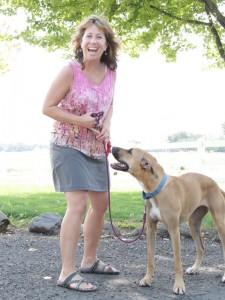 Colleen Shanahan fell in love with dogs after she rescued her first dog Maddy, in 1996.
She is a former pre-school teacher with a degree in Elementary Education who has found many similarities between dogs and children and applies this philosophy to her canine clients and their companions.
She received a certificate in professional dog training in 1997 and soon opened Dog Gone Fun! in Seattle, Washington.
She now lives in the Beautiful Rogue Valley in Southern Oregon and is fulfilling her dream of being a professional dog trainer.
Colleen is certified by the International Association of Animal Behavior Consultants.
MY TRAINING PHILOSOPHY…
Dog training should be positive and fun for both dogs and humans. Dogs as well as humans learn best in a positive environment that is playful yet instructive. I'll show you how to quickly and effectively train your dog using gentle, fun and easy methods. Most pet problems can be solved by using my simple techniques and by applying the basic principles of learning.
Colleen's experience includes:
teaching group classes
training dogs at Dogs for the Deaf
training dogs and their humans through her private practice
mentor trainer with Animal Behavior College
She specializes in:
dog behavior modification including: dog aggression; separation anxiety; barking; and other complex issues

temperament testing

puppy training

teaching manners to unruly pups
IAABC Certified Trainer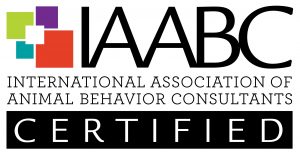 Colleen is certified by the International Association of Animal Behavior Consultants. IAABC Certified members are required to demonstrate competency in six core areas including assessment and intervention strategies, consulting skills, knowledge of animal behavior, and species-specific knowledge.
ABC Mentor Trainer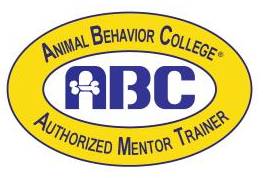 Colleen is an authorized ABC Mentor Trainer, helping to train the next generation of dog trainers.
Education and Other Interests
Colleen has studied with leading behaviorists, including Turid Rugaas and Bob Bailey, trained chickens at chicken camp in 2007, and is influenced by: Karen Pryor, Ian Dunbar, Jean Donaldson, Patricia McConnell and others. She has also trained cats, parakeets, horses, chickens, and humans.
She continues her education by attending ongoing workshops and seminars. In 2006, she completed her certificate in TAGteaching which is a cutting edge way of teaching humans (www.TAGteach.com).
Colleen has successfully helped clients and their pets overcome aggression; fears; separation anxiety; dominance issues; boundary problems and more.
Other areas of interest include Flower Essences, Nutrition and Tarot.
…and CATS, TOO!
Cats can be trained, too! Problems ranging from litter box and elimination problems, to scratching and aggression, can be treated using the same principles of learning that apply to dogs and other animals.
For more info, send email to DogGoneFun@gmail.com or call 541-601-7601.