Our classes are designed to be informative, easy to follow and fun.  We believe training your dog should be enjoyable for both you and dog.
That's why we emphasize reward-based training techniques, along with problem prevention to set you both up for success.
Do I need group classes or private lessons?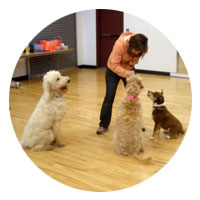 Group classes are perfect for friendly dogs and puppies that can work safely around others. In class we'll cover basics manners like nice leash walking, no jumping, stay and come when called. We'll also have time for problem solving issues such as: chewing, digging and barking.
Private lessons are ideal if you have a busy schedule or your dog has some specific issues to work on such as barking at other dogs, thunder phobia, home alone problems, aggression, house training issues & more.
If your not sure which is right for you, contact me and I'll be happy to answer your questions.
Click to the following pages for class details: