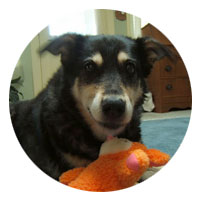 I strive to offer high quality and positive but effective dog training methods that are both dog and human friendly.
I've trained a variety of different breeds of dogs (as well as cats, birds and horses) and understand that training can sometimes be challenging as well as frustrating.
Know that I want to help you succeed in teaching your pet to be a livable and lovable companion that you look forward to spending time with!
Friendly Training Methods
Most puppy or adult dog behavior problems can be either managed or trained.
When we meet, we will evaluate your dog, look at your needs and concerns, and make some behavioral recommendations, and then do some training. I also will design a training plan that you can live with based on the amount of time you have to implement it.
My training methods are fast, effective and fun; they're designed to be easy for the whole family and/or household members so they can be a part of the training process as well.
Are Private Lessons Right for Me?
Private lessons are perfect for those humans on a busy schedule, dogs who have one or two specific issues to work on, or have difficulty being around other dogs in a group setting. We can tailor the lesson to your needs and quickly come up with training solutions to meet your life style.
How to Get Started